Life stories von Kindern und Jugendlichen
in Childrenís Town, Malambanyama, Zambia.


DAPP Childrenís Town
p.o.box 37661, Lusaka Zambia


Jane Mutale (12)
My name is Jane Mutale, I was born in 1992. And I started school in 1997 wen my father was still alive. But when he passed away I stopped because my mother was not having enough money to support everyone at home. Because in our family we are seven of us. My father died in 1996; I started after my daddy has already died thatís when I started school. So right up now I am in grade four and I am happy for me to reach in grade four. At DAPP Childrenís Town there are a lot of activities that I like to do like making friends from other countries. And I am happy because I can speak good English. (23/07/04)


Robert Chilufya (?)
Hi, it is indeed my pleasure and honour to have this great time which has enabled me to express my feelings to you. First and foremost, I wish to thank you for the cooperation which you lendered (=lent) to me in your days of stay at Childrenís Town.
Sir, I request you to start funding me as soon as you get back to your nation so that I can complete my course at the above captioned college (Chainama College of Health Sciences, Lusaka) so as to come and remove myself and the family out of poverty in which it is right now. I promise that with me your support if possible shall go a long way, because I now have hope that I am a future leader of tomorrow after completing my education now waiting to go to college for a three years diploma in Lusaka the capital.
Finally, I thank you in anticipation and hope my request shall be considered greatly, sincerely yours, Robert Chilufya. (26th July 2004, DAPP Childrenís Town p.o.box 37661, Lusaka / Zambia or: Chainama College of Health Sciences, p.o.box Lusaka.)

Brian Banda (14)
My life story: My name is Brian Banda. I am 14 years old. I was living in Ndola with my parents and my father was working as a soldier in Ndola. My father started to sick in 1994. He died when I was about 10 years old and I stopped schooling when I was in grade 4 and was doing fine. Then my mother didnít fell to send me to school any more and I went into the street looking for money so that I can go back to school. But I felt (failed?) to manage to look for money. Then I asked my self what can I do? I looked all round the street so that I can see someone to sponsor me. Then I went home and my mother told me that you will go to school some time. from now; I have found a school for you, so be ready. And I was ready because I liked school very much. The day came and my mother told me that now it is the time to go to the school an I was happy to be in school, every time joking with my friends at school.
At this time I am doing grade 7 and I am very happy to be in Childrenís Town. And I thank DAPP Childrenís Town to sponsor me. It is good to be in Childrenís Town. I know to read, to write and to speak English so that I could write this life story so that someone can help me. The end.

James Chama (15)
My name is James Chama, Iím 15 years old. Iím doing grade 7 at DAPP Childrenís Town school. My life background is like this: I was born in 1989 in Luapula province in Zambia here. And my mother died in 1996 and after my mother died my father decided to marry another wife and that stepmother started treating me like a slave and I ran out from home and I went in the street. After a month I decided to get back at home, but when I went there I found that my parents had shifted to the copperbelt in Kiwe. I travelled to copperbelt to scout for my parents and I found them all. And again my parents refused that I was not their child. And I went back in the street and sleeping under the bridges, and I stayed in the street for 3 years up to 1999, thatís when I was picked up by some of the workers from DAPP Childrenís Town school. And I came here in 1999 and I started schooling and practicing to become a musician.
So, people down there (in Europa) please help me to support me with the little you have, so that I can become a good citizen in future. So please I need some people who can kindly please sponsor me in academic activity and musician with some instruments. Thank you.

Dankesrede von James bei unserer farewell party:
My name is James Chama. I am doing grade 7. On behalf of school management, the staffs and indeed my fellow pupils I would like to express my appreciation to you friends who have come all the way from your respective countries. This clearly shows how much you love us and care for us. We are children who need your total support economically and socially. We are requesting you to continue supporting us and do not forget about us.
We are grateful for the job that you have done at our residential area. We are also thankful for the donations you have given us. These will be used in the best way.
We wish you all the best during your tour around the beautiful places of Zambia and as you meet the friendly people. I say: travel well and safely to your respective countries. Thank you.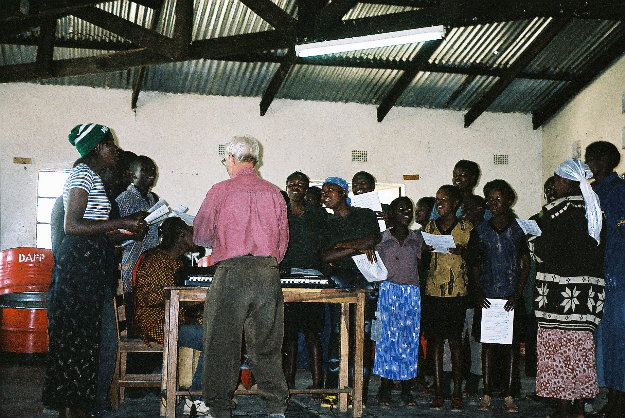 ---